Monthly Ekphrastic: Opening of Sonic Arcade: Shaping Space with Sound at the Museum of Arts and Design
Each month, Dilettante Army's editors choose an exhibit or art happening for resident poet Molly Jean Bennett to address in a poem or short series of poems. This month, our correspondent attended the opening of a new exhibition at the Museum of Arts and Design (MAD) with Dilettante Army editor and high priestess of caftans Sara Clugage.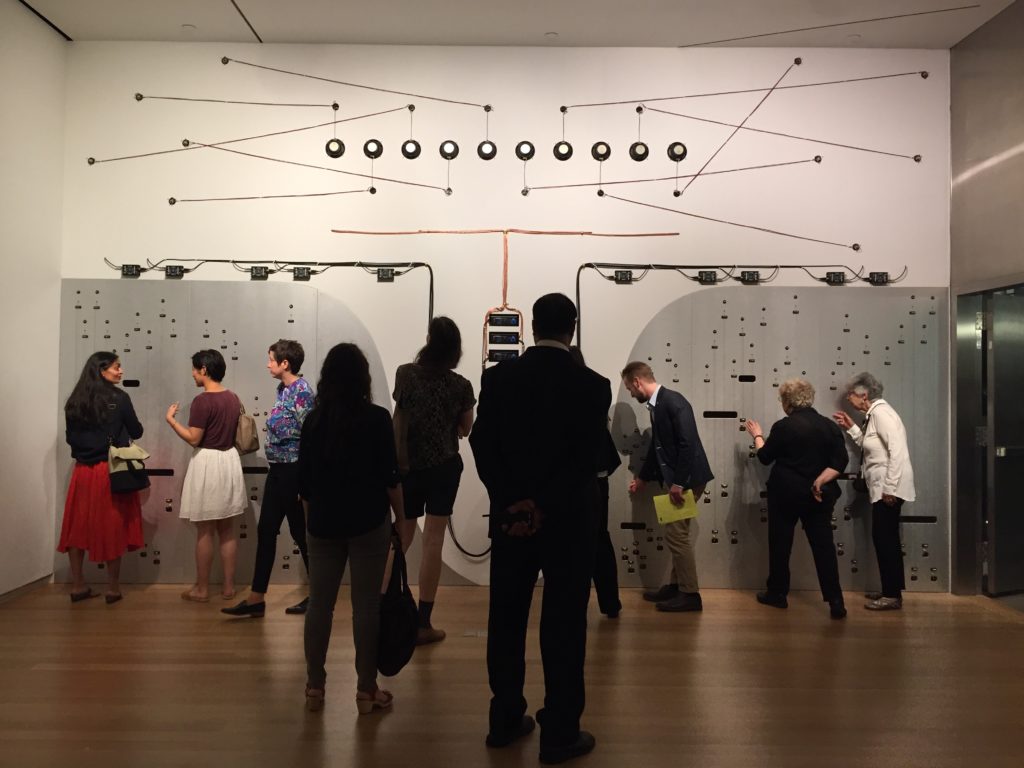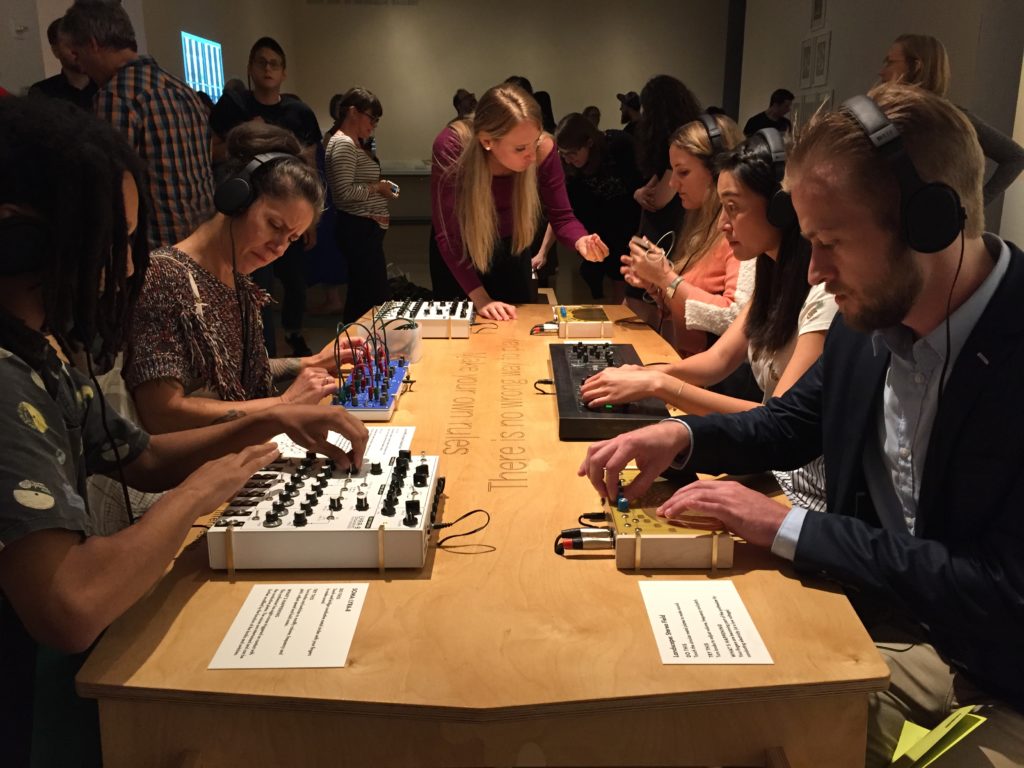 MAD describes the exhibition, called Sonic Arcade: Shaping Space with Sound, as "a multi-component exhibition featuring interactive installations, immersive environments, and performing objects that explore how the ephemeral and abstract nature of sound is made material."[1] The wall text asks, "Is sound a product of other material, or material itself? Do artists craft sound, or just the objects that make it? How does sound shape our experience of our bodies and the space our bodies occupy?" During the opening, the galleries were filled with stylish museum goers playing analog synthesizers (part of a piece called "Subject to Gesture" by artist Robert Aiki Aubrey Lowe) and plucking the strings of a room-sized instrument resembling an electric guitar ("Propagation (Opus 3)" by Naama Tsabar). Our correspondent felt herself especially drawn to a wooden box covered in rows of ceramic buttons. This was "Super Mode" by Emily Counts. A sign on the box instructed visitors to press the buttons in order to trigger pre-recorded sounds. In the crowded gallery, though, it was hard to hear their chimes and beeps above so many conversations and louder works. Nevertheless, our correspondent pressed and pressed.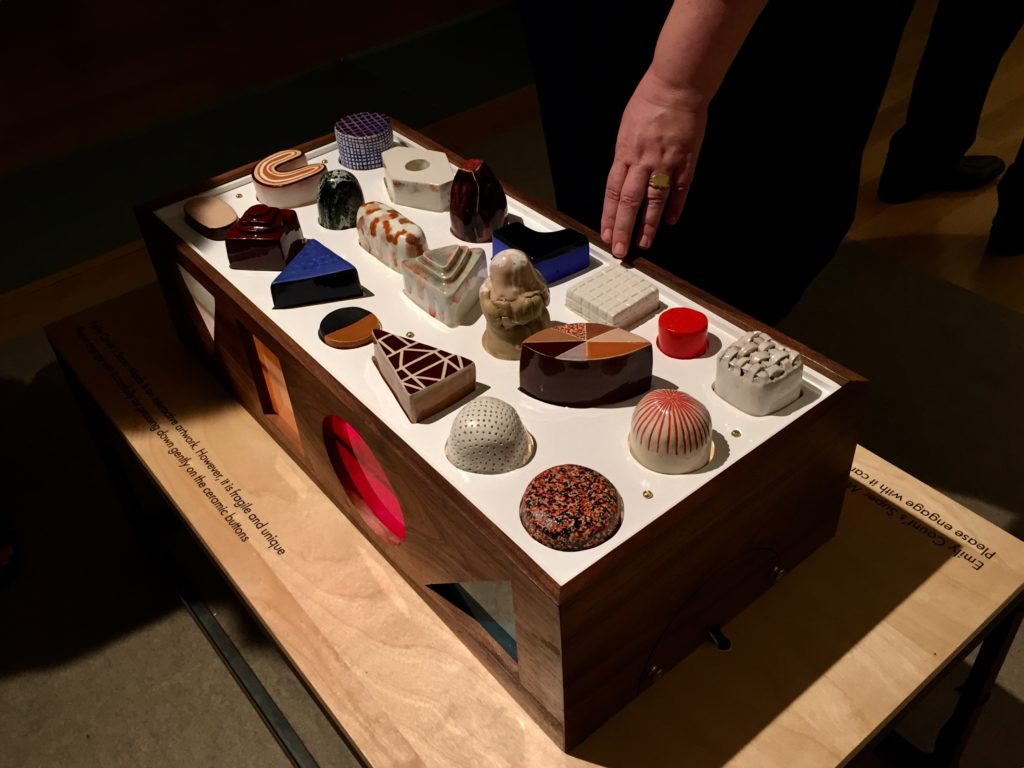 The day after the opening, our correspondent attended a memorial service for her late employer. It was an event of gravity and weepiness, as such things often are. At the memorial, a famous actress in a bowler hat read a poem by W.S. Merwin. Thinking of that work, and of Counts's "Super Mode," our correspondent wrote her own poem.
However, it is Fragile and Unique
"Emily Counts's Super Mode is an interactive artwork. However, it is fragile and unique. Please engage with it carefully by pressing down gently on the ceramic buttons."
—unknown, "Super Mode" wall text
"Comet of stillness princess of what is over                                                                                     high note held without trembling without voice without sound"
—W.S. Merwin, "Vixen"
Touch don't pound. Pat don't slap. Press don't smash.
I was gentle. I had to lean in close to hear you above the din.
Soft is a word for whiskers against a windowpane and a human baby's squish-squish arm, her chub-chub tum. The opposite of soft: certain guitar riffs. The concrete at the bottom of a seven-story drop.
You were a collection of exquisite buttons. Each looked delicious carefully made. I admired your slice of cake and your perfect pillpack. I admired your petit fours.
I wanted to know the things you knew. You could not say, or I could not hear. Your vibrations were beyond my range.
Don't hit.
Don't whisper.
Don't wail.
[1] "Sonic Arcade: Shaping Space with Sound." Museum of Arts and Design website. http://madmuseum.org/sonic-arcade-shaping-space-with-sound. Accessed 2017.